How Does DogeOS Look Like?
We don't know how the OS will look, so; we reached out to the developers Elon hired to develop the OS. Luckily, Elon has permitted them to send the pictures of UI/UX elements of the DogeOS. The OS has a striking resemblance to 11-year old Android Icecream Sandwich.
Here's your first look at the DogeOS: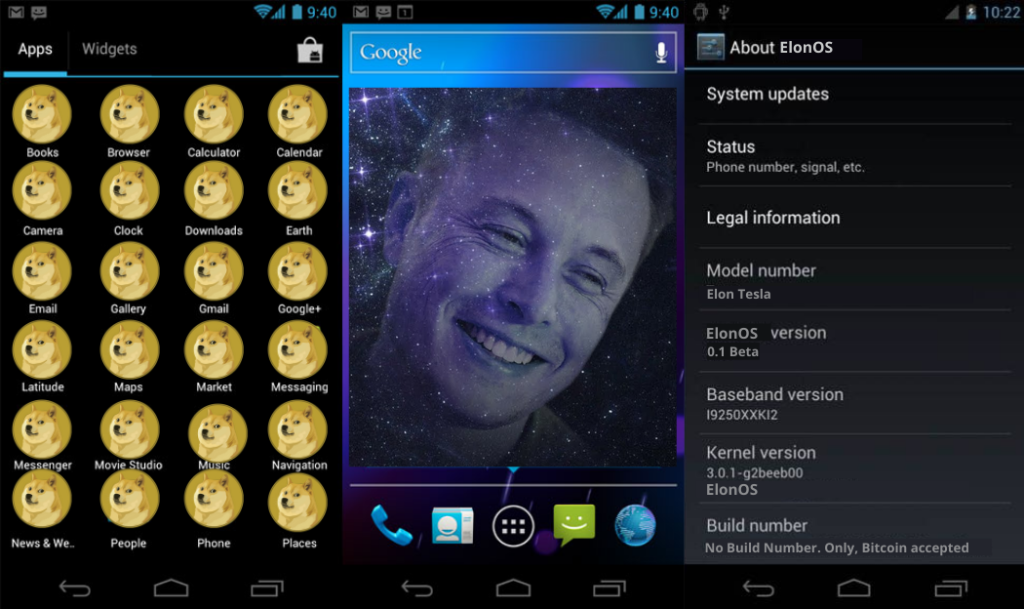 As you can see, the OS's UI is on par with most modern-looking mobile OSes out there. In fact, in some areas, the OS is significantly ahead of its competition. The app icons are inspired by Dogecoin's Shiba Inu dog and look aesthetically pleasing.
The OS's Elon Software center will have apps on sale that can only be bought using Dogecoin or Bitcoin. You can also order a Tesla on the store using only Bitcoin.
We at Fossbytes love innovation, and after seeing this open-source masterpiece, we're pretty sure that the upcoming days for open-source software are going to be bright, just like this April fools day.
Also, did we mention that you can dual-boot DogeOS alongside Windows on your PC? Yes, the OS is very flexible.
Okay, enough about this already. Do let us know your thoughts about DogeOS in the comments section below.
Also, if you like our April Fool's Day prank, then try it on your friends too.