In a grand celebration of talent, innovation, and social impact, the IMA 2023 Influencer Magazine Awards have recognized outstanding individuals who have left an indelible mark on their respective fields. We extend our heartfelt congratulations to the esteemed title winners who have not only demonstrated exceptional prowess but have also inspired the world with their dedication and vision.
Lisa: Beauty Mogul of the Year
Sam Altman: Founder of the Year Sam Altman's visionary leadership and groundbreaking ideas have led him to the coveted title of Founder of the Year. His ability to conceptualize and build ventures that redefine industries showcases his exceptional entrepreneurial skills. This award acknowledges his contributions to shaping the future of business and technology.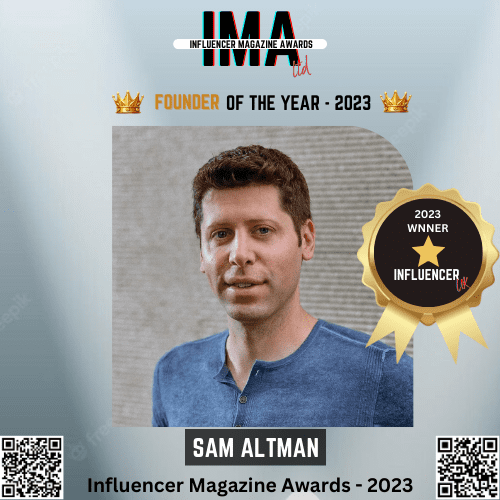 Steanie Naaji: Rising Star of the Year In the dynamic realm of entrepreneurship, Steanie Naaji has been recognized as the "Rising Star of the Year." Her innovative ideas and unwavering determination have propelled her to this well-deserved title. Steanie's entrepreneurial journey serves as a testament to her creativity and resilience, making her a shining example for emerging business leaders. This award celebrates Steanie's potential to make significant strides in the business world and acknowledges her as a rising star to watch out for in the future.
Napoleon Okugbe: Serial Entrepreneur of the Year Napoleon Okugbe's innovative spirit and entrepreneurial acumen have earned him the title of Serial Entrepreneur of the Year. His ability to navigate the business landscape with finesse and create ventures that make a significant impact is truly commendable. This recognition is a testament to his dedication to continuous innovation and business excellence.
Christopher Hohn: Philanthropist of the Year Christopher Hohn's philanthropic endeavors have transformed lives and communities around the world. His win as Philanthropist of the Year is a tribute to his generosity, compassion, and dedication to creating positive social change. His impact resonates far and wide, leaving a legacy of kindness and goodwill.
Evangeline Cain: Women Entrepreneur of the Year Evangeline Cain's remarkable journey as an entrepreneur has earned her the title of Women Entrepreneur of the Year. Her innovative approach, leadership, and dedication to empowering women in business have set her apart. This award celebrates her achievements and the inspiration she provides to aspiring female entrepreneurs.
Calynn M. Lawrence: Social Impact Champion Calynn M. Lawrence's tireless efforts in the realm of social impact have not gone unnoticed. Her win as the Social Impact Champion at IMA 2023 is a testament to her unwavering commitment to making a positive difference in the world. Through her initiatives and humanitarian work, she has become a beacon of hope, empowering communities and inspiring change.
(Note: We are doing winner announcements in 7 slots due to some reasons, posts about other titles winners will be live soon)
We applaud these extraordinary individuals for their achievements and contributions. Their success stories inspire us all, reminding us of the boundless possibilities that come with passion, dedication, and a drive to make a difference in the world.