BTS, also known as the Bangtan Boys, is a seven-member South Korean boy band. A group composed of RM, Jim, Suga, J- Ho[pe, Jimin, V, and Jungkook. They debuted in 2013 under big hit Entertainment. The band recently won several awards at the 2021 Billboard Music Awards. They were also nominated for Grammys in 2020. The group is K – pop band taking over the world. They made headlines over many years and won the hearts of millions of fans worldwide. There are many reasons people love them. Here are some of them.
[1] Amazing Music And Performance
They make amazing music and their lyrics are relatable and very real. Their songs are catchy and calm down the mood. Their songs are a mixture between Korean and English. There is always rap verse in the songs, and the lyrics are not about drugs or sex, but also about beautiful things. These boys leave you breathless with their ability to own the stage. With their slick dance routines and extremely impressive music videos.
[2] Their Hardwork
While it's given that they should know how to sing, dance and rap, all seven members also produce and write their own songs. The members are very humble and they always push up themselves to make better music every time. They prioritize their fans and their work. A lot of people around the world have been inspired by their music. BTS practice for hours. For their debut performance, they were working at it for 12 to 15 hours a day to get it done right.
[3] Subject cover of their song
BTS music is successful because it covers subjects that other bands may not like bullying, elitism, and mental health. Other artists mostly talk about break-ups and love, but Bts mostly sings about self-love. They have an album Love yourself in which they talked about the importance of prioritizing yourself. Many people say that the subject of their music has played a part in their success. In times when you're looking for more things to hold on to, their words give you a sense of reassurance.
[4] Their Personality
Their ability to be relatable, humble while still being entertaining is rare. The band believes that real love begins with self-love and that is true. They respect everyone and are very open and interactive with their fans. All BTS members are really kind. They are humble and funny. They are extremely down-to-earth and humble. Despite bagging awards both locally and internationally, selling out stadiums, and topping the charts left and right, at the core of it, BTS is still the same group of seven boys who get excited over the little things–like winning gift certificates and free food on their variety show, Run! BTS.
[5] Inspirational Success Story
They work very hard and have come from very small families and faced a lot of discrimination and criticism. They do not support toxic masculinity. It took them three years after their debut to get recognized in their country south Korea and after that, in two years the world knew them. They are Grammy-nominated artists and are achieving more and more every day. The first K-pop acts to perform at the American Music Awards and winning the Top Social Artist award at the BBMAs, Korean supergroup Bangtan Sonyeondan (popularly known as BTS) has won the hearts of millions of fans worldwide.
[6] Their Supportive army and Community
BTS has attracted a loyal group of fans who have fallen in love with their music even more. Beyond their breathtaking performances and visuals, the group has successfully cultivated a worldwide community of fans that have come to embrace their message of positivity and acceptance. Also, the community that they have built 'army' is very supportive and welcoming. Which helps people make friends. They tell people time to time that they are there for them.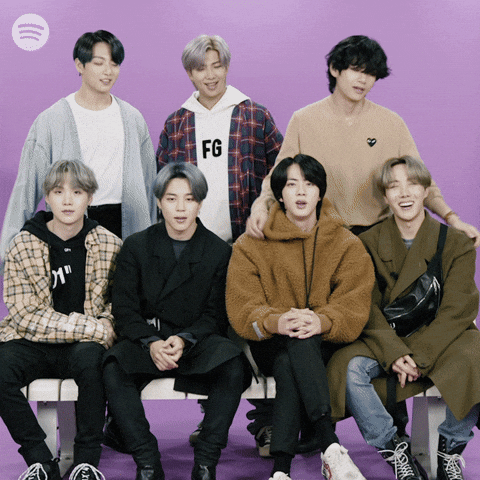 [7] They are history makers
BTS is first ever K-Pop band to top the US Album charts. BTS also have the gong for longest time spend at the top of the US's Billboard social 50 chart. They pinched the record off Justin Bieber after remaining at number one for the 57 th week in a row. They are first Korean pop music group to adress the UN and First korean act to perform a US stadium Show. The group has the record for most twitter engagements. BTS appear in the 2019 edition of Guinness World Record – Twice.